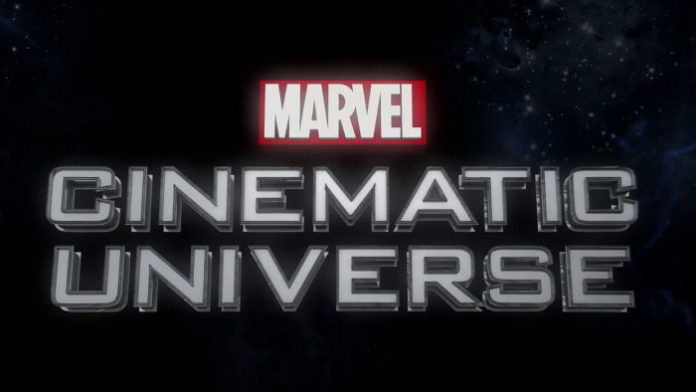 La serie TV Agents of Shield è inserita pienamente all'interno del Marvel Cinematic Universe (MCU). Dopo esserci dilungati per descrivere al meglio i collegamenti della serie TV Agents of Shield parte 1 e parte 2, per rendere il tutto più chiaro possibile abbiamo preparato un' infografica per ogni fase del MCU per riassumere la continuità delle storyline tra le varie stagioni che costituiscono Agents of Shield, le serie TV Marvel prodotte da Netflix ed i film del Marvel Cinematic Universe.
Infatti ogni piccola apparizione di un personaggio o di un oggetto funge da connessione ai fatti narrati al cinema. In alcuni casi tali riferimenti servono per dare slancio e introdurre un'imminente film in uscita oppure in altri la serie TV tratta le conseguenze, più o meno direttamente, di quanto accaduto nei più blasonati film cinematografici.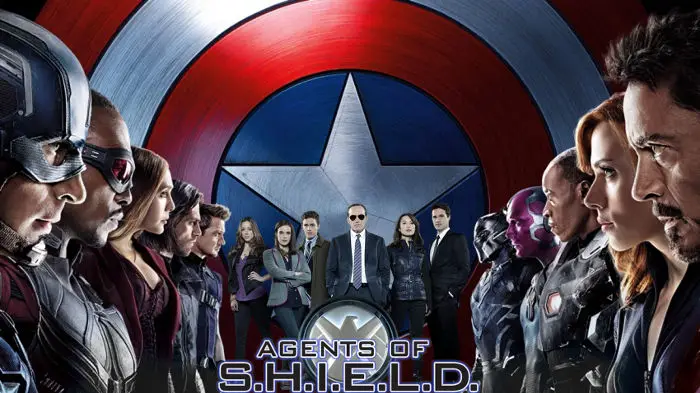 Infografica fase 1
La prima infografica è relativa alla fase 1 e non riporta collegamenti diretti alla serie TV. Da precisare però che nella prima puntata della seconda stagione, viene introdotto il personaggio di Peggy Carter al fine di promuovere la serie TV Agent Carter andata in onda tra il 2015 e 2016.
Tuttavia le sue vicende si sono svolte direttamente dopo quanto accaduto nel cinecomic Capitan America: Il Primo Vendicatore.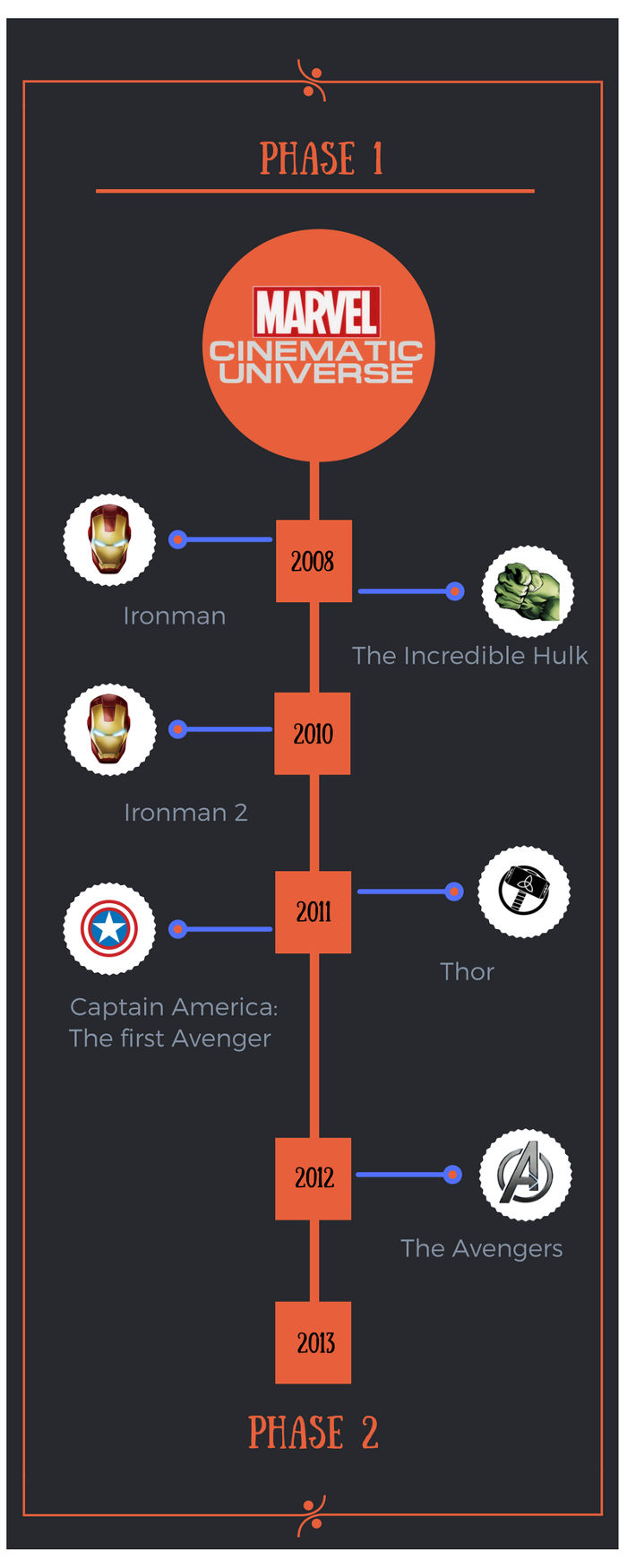 Per tutti i fan del Marvel Universe nello store di Amazon trovate numerosi gadget.
[amazon_link asins='B07CJKT731,B07F6Q99JF,B079RKZCNP,B00OMFEPSC,B01F3SKV2U' template='ProductCarousel' store='serietvdavedere-21′ marketplace='IT' link_id='062c90e1-b1b9-11e8-bac4-5faf228c070d']
Infografica della fase 2
La seconda infografica riporta tutti i collegamenti tra Agents of Shield e la fase 2 dell'universo cinematografico Marvel. Da notare come tra il 2015 ed il 2016 in piena fase 2 vengono prodotte dalla Marvel Television e distribuite da Netflix le serie TV Daredevil e Jessica Jones che sebbene raccontino delle vicende distinte, ereditano le distruzioni derivanti da Capitan America: Il Soldato d'Inverno e Thor: Dark World.
Mentre gli approfondimenti relativi alla prima e seconda stagione della serie TV Agents of Shield li potete trovare in Agents of Shield: i collegamenti con l'universo Marvel parte 1.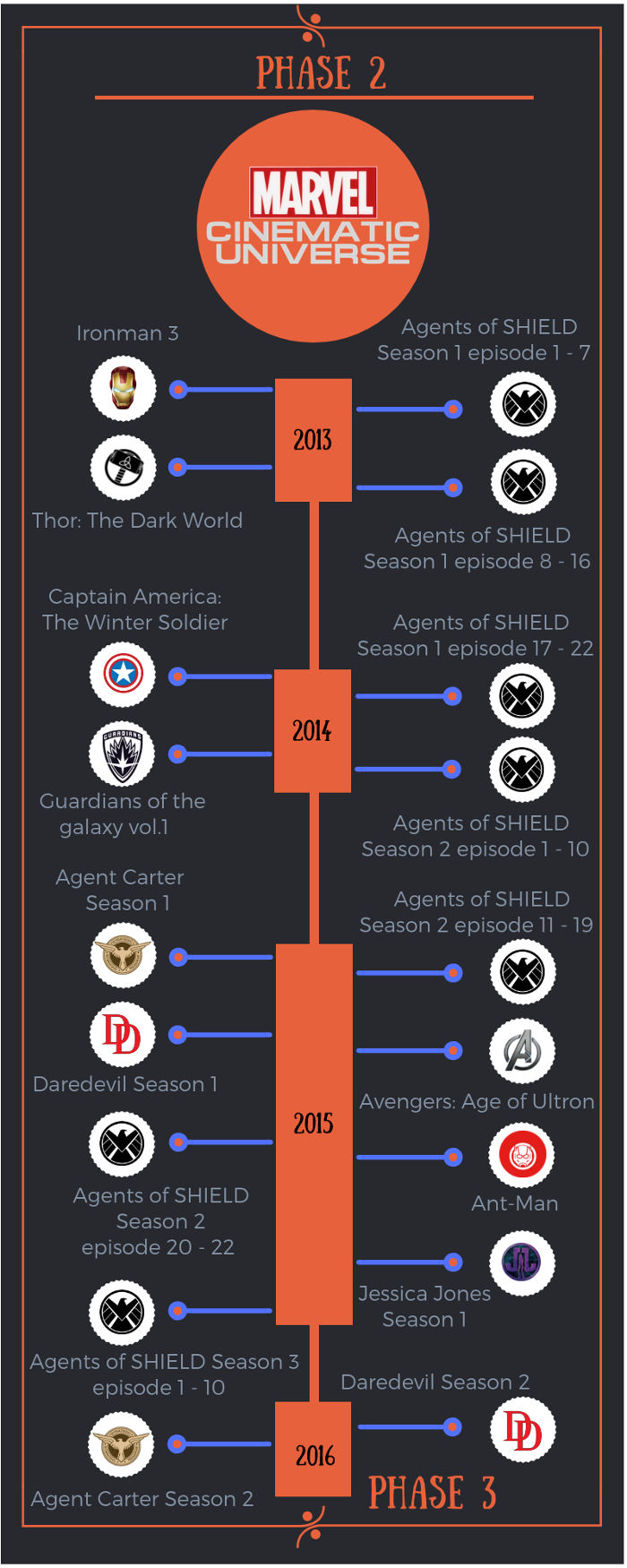 Infografica della fase 3
Infine di seguito trovate l'infografica relativa ai collegamenti tra Agents of Shield e la fase 3 dell'universo cinematografico Marvel.
Nella fase 3 parte I e parte II sono inserite le serie TV Marvel distribuite da Netflix Luke Cage, Iron Fist, The punisher e The defenders e la serie TV Inhumans prodotta da Marvel Television  e ABC Studios per Fox. Queste serie TV non contengono dei diretti collegamenti al MCU ma cronologicamente sono state pubblicate nell'ordine riportato nell'infografica.
Tutti gli approfondimenti relativi alla terza e quarta stagione li potete trovare in Agents of Shield: i collegamenti con l'universo Marvel parte 2  mentre quelli relativi alla quinta stagione sono in Agents of Shield: i collegamenti con l'universo Marvel Stagione 5 .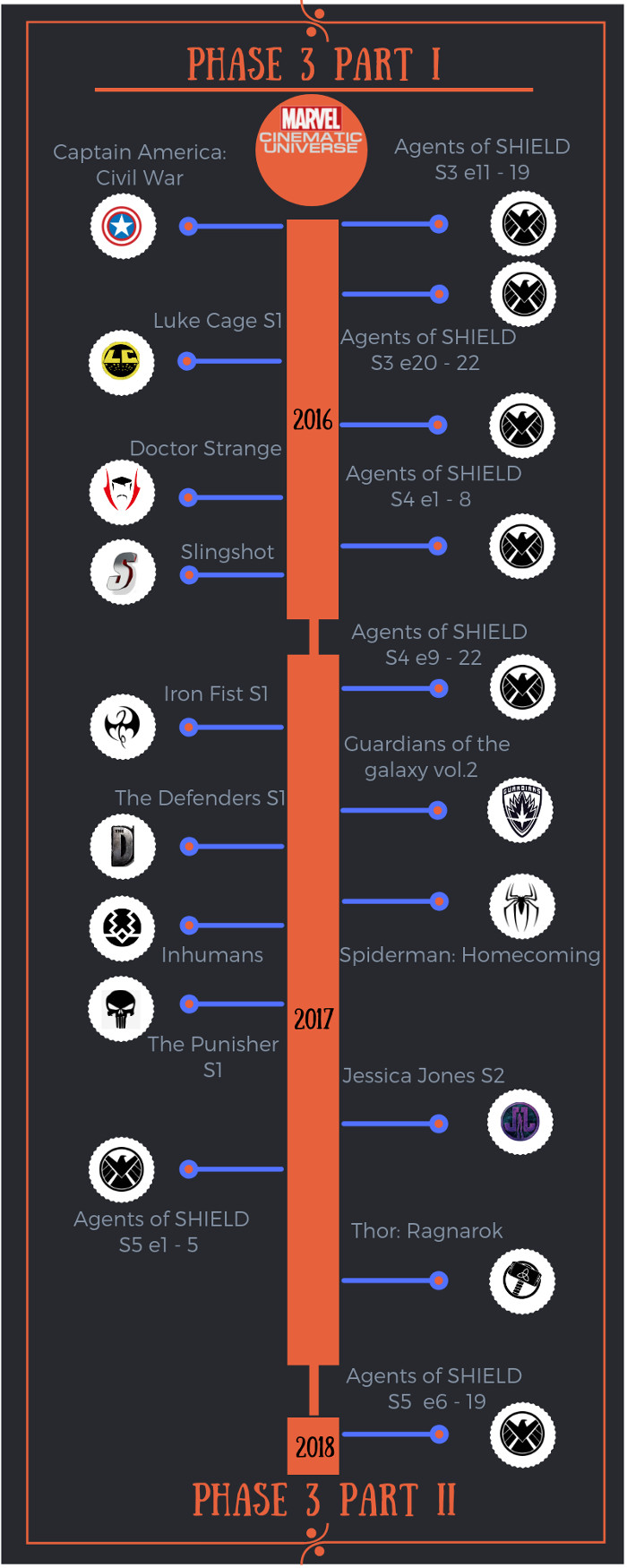 Da notare che l'epilogo della quinta stagione di Agents of Shield non risente dello sciocco di Thanos visto in The Avengers: Infinity War pertanto la serie è stata collocata in contemporanea in quanto gli ultimi tre episodi si svolgono quasi al ridosso delle vicende viste nel cinecomic.
Mentre la stagione 6 di Agents of Shield (i cui fatti si svolgono un anno dopo Infinity War) non ha preso in considerazione gli effetti della Decimazione di Thanos. Infatti sebbene ci siano delle velate connessioni, la Marvel Entertainment group che controlla la Marvel Television ha deciso di separare nettamente le due diversi narrazioni. La stagione 6 è stata inserita tra Endgame e Spiderman: Far From Home per richiamare cronologicamente la data di messa in onda.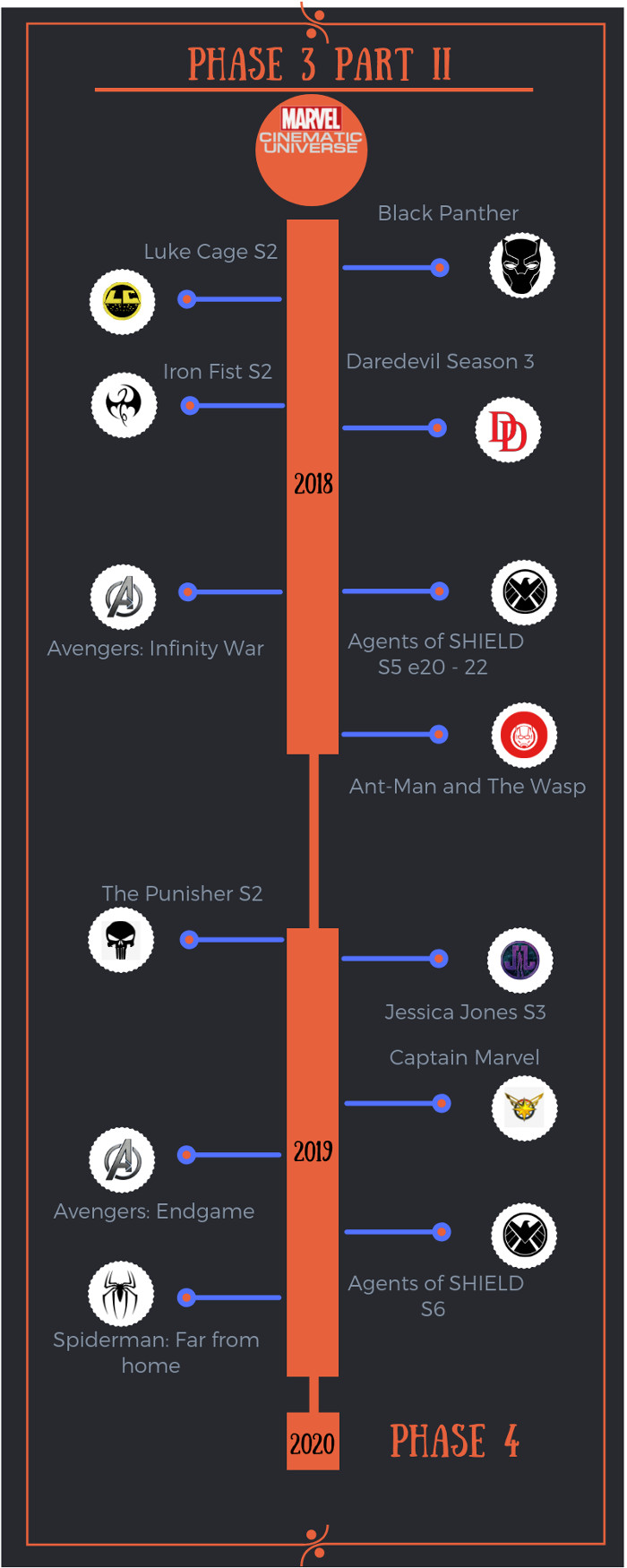 Inoltre pare che le connessioni tra MCU e serie TV Marvel riprenderanno con il lancio della piattaforma di streaming Disney+. Infatti nell'ambito della Fase 4 sono in fase di programmazione le serie TV The Falcon and the Winter Soldier, Wandavision, Loki e Hawkeye.
Fonte immagini: marvelcinematicuniverse.wikia.com, wikipedia.com, canva.com .