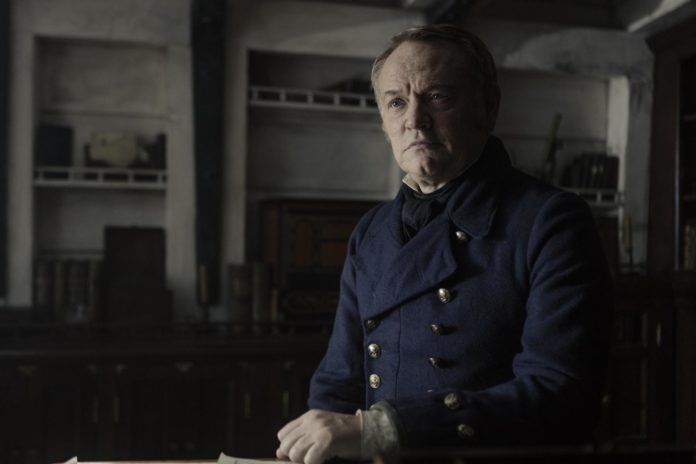 Sei curioso di scoprire chi è l'attore che interpreta il Comandante Francis Crozier nella serie televisiva The Terror?  Scopriamolo in questa guida dedicata.
Chi è il Comandante della nave Terror?
Il Comandante della Terror Francis Crozier, interpretato da Jared Harris, a seguito del decesso di sir John Franklin, assume il ruolo da vero protagonista a capo della spedizione. Il comandante cerca di salvare il suo equipaggio tra mille difficoltà dovute al freddo ed alle malattie ed al Tuunbaq.
L'attore Jared Harris è chiamato ad interpretare i panni del protagonista del romanzo "La scomparsa dell'Erebus" (2007) scritto da Dan Simmons, che ripercorre in modo immaginario quale avrebbe potuto essere la sorte della spedizione britannica che nel 1845 partì dall'Inghilterra alla ricerca del passaggio a nord-ovest.
La storia dai contenuti soprannaturali ed horror ha ispirato la serie televisiva The Terror che racconta il fallimento della missione delle due navi che facevano parte della spedizione, l'Erebus e la Terror. I due natanti rimasti bloccati tra i ghiacci sono stati avvistati per l'ultima volta da una baleniera il 26 luglio del 1845 nella baia di Baffin, dopodiché sono scomparsi per sempre e, con loro, tutto l'equipaggio.
Chi è Jared Harris, il comandante della Terror?
Jared Harris è l'attore britannico 56enne che interpreta il ruolo del Comandante della Terror Francis Crozier nell'omonima serie televisiva. Jared è uno dei tre figli dell'attore irlandese Richard Harris. Il celebre attore ha studiato alla Duke University e nel 2005 ha sposato Emilia Fox, da cui ha divorziato nel mese di giugno 2010. Dopo tre anni dal divorzio, Harris sposa l'attrice Allegra Riggio.
Filmografia:
Allied – Un'ombra nascosta (2016), Il tuo ultimo sguardo (2016), Operazione U.N.C.L.E. (2015), Poltergeist (2015), Il violinista del Diavolo (2014), Le origini del male (2014), Pompei (2014), Shadowhunters – Città di ossa (2013), Lincoln (2012), Sherlock Holmes – Gioco di ombre (2011), The Ward – Il Reparto (2011), Misure straordinarie (2010), 32A (2007), Lady in the Water (2006), The Notorious Bettie Page (2005), Ocean's Twelve (2004), Resident Evil: Apocalypse (2004), Sylvia (2003), Dummy (2002), Igby goes down (2002), Mr. Deeds (2002), PERFUME (2001), The Reckoning (2001), SHADOW MAGIC (2000), Two of Us (2000), THE WEEKEND (1999), B. Monkey – Una donna da salvare (1998), Happiness – Felicità (1998), Lost in Space – Perduti nello spazio (1998), Due padri di troppo (1997), Ho sparato a Andy Warhol (1996), Blue in the Face (1995), Dead Man (1995), Nadja (1994), Cuori ribelli (1992), Occhio indiscreto (1992), La ragazza dei sogni (1989).
Tra le serie tv come regista e interprete, ricordiamo: The Terror (2018), The Crown (2016), Mad Men (2007).
Fonte Immagine: movieplayer.it