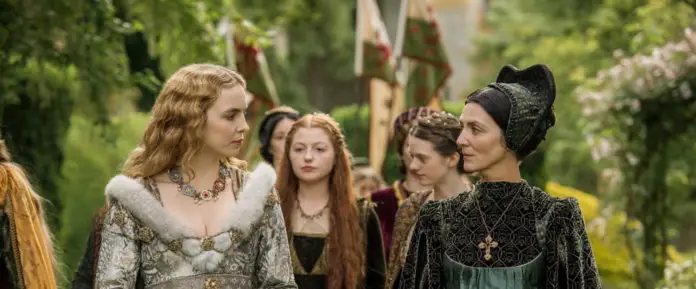 The White Princess è una miniserie, ma ha conquistato il suo pezzo di pubblico con soli otto episodi ed una trama semplice e lineare, capace di lasciare il pubblico molto spesso sorpreso ed anche incuriosito dal procedere della storia. Come molti sanno, The White Princess è l'omonima storia narrata nel bestseller "Una principessa per due re", appartenente alla serie "La guerra dei cugini" di Philippa Gregory.
La miniserie fa luce sulla relazione e le nozze di Enrico VII di Inghilterra ed Elisabetta di York, in pratica l'atto conclusivo della Guerra delle Due Rose. Quali sono le curiosità più ricercate sulla produzione britannico-statunitense?
Dove vedere The White Princess?
The White Princess è andata in onda nel corso del 2017 e in Italia alla fine del medesimo anno. Eppure ancora oggi molti fan si chiedono dove vedere e recuperare The White Princess. Fin dal suo arrivo sul nostro territorio, la serie è stata (ed è) esclusiva del servizio streaming TimVision, dove è tuttora disponibile in streaming. Occorre, dunque, registrarsi al servizio, giovando anche di un periodo di prova gratuito.
The White Princess è un prequel?
Narrando di un periodo cruciale per la storia, anche recente, del Regno Unito, molti si sono interrogati se The White Princess sia in realtà un prequel di qualche altra produzione. In realtà si tratta del caso opposto: The White Princess è in realtà un sequel, cioè il seguito di un'altra serie sempre in odore regale, ovverosia The White Queen.
Quest'ultima è analogamente una produzione britannico-statunitense, andata in onda nell'estate del 2013 sul canale BBC One. Ambientata durante la Guerra delle Due Rose, la serie si focalizza su tre donne coinvolte nel lungo ed estenuante conflitto per il trono d'Inghilterra: Elizabeth Woodville (la regina della Rosa Bianca), Margaret Beaufort (la regina della Rosa Rossa) ed Anne Neville (la futura regina).
Film o Serie tv come The White Princess
Esistono, ovviamente, molte serie tv simili, per ambientazione o semplicemente per trama, a The White Princess. Chi non può riprendere la visione di The White Princess può dunque stare tranquillo perché l'elenco è bello lungo. A cominciare da The Tudors, pluripremiata serie sulla famiglia reale più controversa d'Inghilterra, andata in onda dal 2007 al 2010.
Ma ancora c'è anche altro, come The Virgin Queen del 2005, I Borgia, Mondo senza fine (2012) e, in tempi più recenti, anche The Spanish Princess, andata in onda nel 2019 e capace di riscuotere successi e pareri favorevoli da parte della critica.
FONTE IMMAGINE: MOVIETELE.IT