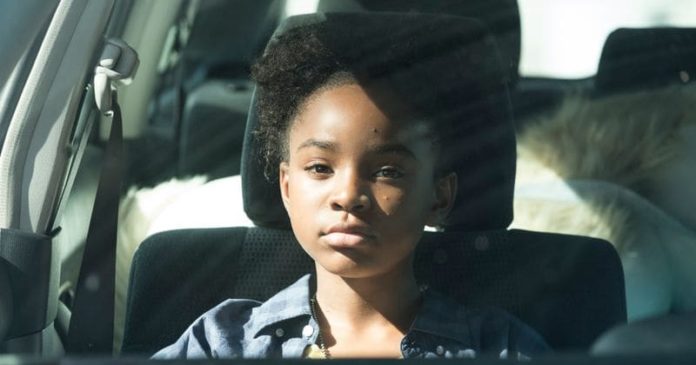 Chi è la giovanissima Amy Bellafonte nella serie tv The Passage? La ragazzina è un'orfana che è stata scelta dal team di ricercatori coinvolti nell' esperimento governativo chiamato Progetto Noha per testare il virus
L'obiettivo dei ricercatori è quello di raggiungere un'immunità universale che consentirebbe di allungare l'aspettativa di vita.
Ma, alla fine, creeranno una nuova specie.
Scopriamo in questa guida chi è Amy Bellafonte nella serie tv The Passage e chi è l'attrice americana che interpreta il suo ruolo.
Chi è Amy Bellafonte?
The Passage è basata sull'omonima trilogia fanta-horror di Justin Cronin, ed è un drama firmato da Elizabeth Heldens e prodotto da Matt Reeves, Ridley Scott, David W. Zucker e Adam Kassan.
Quando il governo americano chiude in un istituto super segreto alcuni detenuti per usarli come cavie, Amy Bellafonte (Saniyya Sidney), una piccola orfana di 10 anni soggetta al test, diviene l'unica possibile soluzione alla fine della civiltà.
Infatti, la ragazzina di colore viene scelta come paziente dal team di ricercatori del progetto Noha e potrebbe diventare la persona più importante al mondo.
Una volta selezionata, Amy viene affidata all'agente federale Brad Wolgast (interpretato da Mark-Paul Gosselaar) che ha il compito di portarla nella struttura.
Successivamente, Wolgast diventa il padre surrogato, mentre cerca di proteggerla ad ogni costo.
Brad e Amy, nel corso della serie tv, saranno costretti a confrontarsi con lo scienziato principale del progetto, il maggiore Nichole Skyes e con Clark Richards, l'ex agente operativo della CIA incaricato delle operazioni.
Chi è l'attrice che interpreta Amy Bellafonte?
Nella serie tv The Passage, la giovanissima Amy è interpretata da Saniyya Sidney.
Saniyya Sidney è un'attrice americana conosciuta soprattutto per i suoi ruoli nella serie American Horror Story: Roanoke (2016) e nei film Fences (2016) e Hidden Figures (2016).
Sidney ha iniziato a recitare nel 2012, quando è apparsa nel cortometraggio The Babysitters. Successivamente è apparsa in Roots e in American Horror Story: Roanoke nel ruolo di Flora Harris.
La Sidney è poi apparsa in Fences, il film che ha ricevuto ben quattro nomination all'Oscar 2017. La pellicola diretta da Denzel Washington, con Washington e Viola Davis e Hidden Figures, ha ricevuto tre nomination all'Oscar 2017, diretto da Theodore Melfi.
Sidney ha recitato in Fast Color diretto da Julia Hart, con Lorraine Toussaint e Gugu Mbatha-Raw, che ha avuto la sua anteprima mondiale a South by Southwest il 10 marzo 2018.
Nel 2019 la troviamo nella serie The Passage nel ruolo di Amy Bellafonte.
La serie ha ricevuto una valutazione del 55% sulla base di 22 recensioni, con un punteggio medio di 6,53/10 su Rotten Tomatoes.
La critica sottolinea che: "Le interpretazioni dei protagonisti Mark-Paul Gosselaar e Saniyya Sidney non possono di certo modificare la trama "ribelle" e il tono debole di The Passage".
Metacritic assegna alla serie un punteggio di 62 su 100.
Fonte immagine: flipboard.com