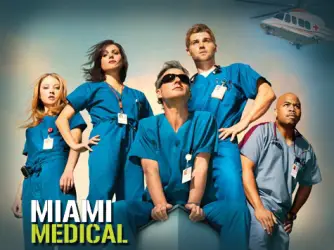 Capo del team di chirurghi, Matthew Proctor è un medico molto stimato dai componenti del suo team, anche se ad un primissimo impatto può sembrare una persona molto misteriosa. Scopriamo chi è e da chi è interpretato nella serie televisiva Miami Trauma o Miami Medical.
Chi è il personaggio di Matthew Proctor nella serie tv Miami Medical?
Interpretato da Jeremy Northam, il Dottor Matthew Proctor è il capo del team di chirurghi della serie televisiva medical Miami Medical (conosciuta come Miami Trauma), creata da Jeffrey Lieber e prodotta dalla Jerry Bruckheimer Television e Warner Bros. Television.
Salvato da un infarto due anni prima in Maryland, Matthew inizia la sua nuova vita come traumatologo e diventa subito il capo dell'equipe medica, venendo a Eva Zambrano. Anche se, a volte, può sembrare misterioso e rude, è molto stimato dai membri della squadra Alpha e adora andare a pensare sul tetto.
La serie televisiva è ambientata in un pronto soccorso di Miami, dove l'equipe medica è alle prese nel curare forti traumi e gravi ferite. Oltre a Matthew Proctor, il team è composto dal Dr. Chris Deleo, dalla Dr. Serena Warren, dalla Dr. Eva Zambrano e da Tuck Brody.
Medical Trauma: chi è l'attore Jeremy Philip Northam?
Jeremy Philip Northam è nato a Cambridge, in Inghilterra, dai genitori John e Rachel, entrambi professori universitari. La famiglia si trasferì a Bristol nel 1972: qui Jeremy frequentò la Bristol Grammar School e si laureò in letteratura inglese al Bedford College, University of London, nel 1984. Dopo la laurea, frequentò la Bristol Old Vic Theatre School e si affacciò sul palcoscenico teatrale di Londra.
Northam ha ricevuto il prestigioso Olivier Award per la sua performance del 1990 nei panni di Edward Voysey, nel revival "The Voysey Inheritance".
Nel 1994 ha debuttato nel cinema americano con il thriller, The Net (1995), accanto a Sandra Bullock, successivamente ha interpretato il personaggio di Mr. Knightley in "Emma" di Miramax (1995) al fianco di Gwyneth Paltrow.
Northam ha continuato a emozionare il suo pubblico con le sue numerose e acclamate esibizioni, tra cui produzioni di grande budget e, persino, libri televisivi e audio. Jeremy interpreta Sir Thomas More nella serie The Tudors.
Curiosità su Jeremy Philip Northam
Ha ricevuto il Laurence Olivier Theatre Award nel 1990 (stagione 1989) come "Most Promising Newcomer" per la sua performance in The Voysey Inheritance.
Ha due fratelli maggiori, Christopher e Tim, e una sorella maggiore, Kate.
Mentre interpretava il piccolo ruolo di Osric in una produzione del 1989 di "Amleto", Jeremy sostituì la stella Daniel Day-Lewis quando l'attore si sentì male a metà spettacolo.
Ha un appartamento a Marylebone e, in passato, possedeva una casa a tre miglia dalla costa del Norfolk.
Adora cucinare il pesce.
Fonte immagine: sharetv.com