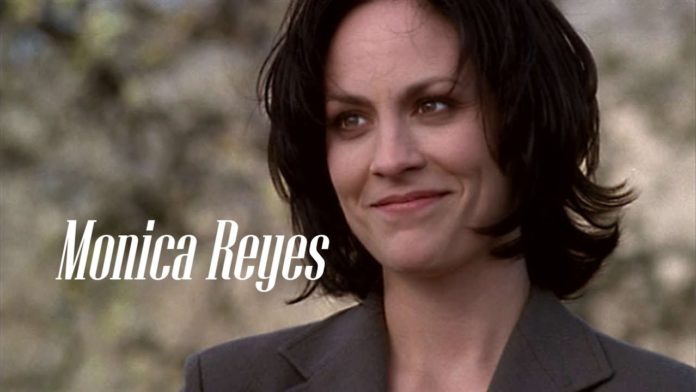 Monica Reyes è un personaggio della serie televisiva X-Files, interpretato da Annabeth Gish, con la voce italiana di Monica Gravina. Laureata in mitologia all'università del Rhode Island (USA), una volta reclutata nella sezione investigazioni dell'FBI, conosce l'agente Doggett (interpretato da Robert Patrick) durante il caso di ritrovamento del figlio.
Lo stesso agente contatta Monica Reyes per collaborare con le investigazioni degli X-Files. Ma, chi è la "vera" Monica Reyes? Scopriamolo in questa guida.
[amazon_link asins='B07DCH2WZV' template='ProductCarousel' store='serietvdavedere-21′ marketplace='IT' link_id='7b4d153f-0ecb-11e9-9cce-8347ef573d50′]
[amazon_link asins='B07DKB8GJW' template='ProductCarousel' store='serietvdavedere-21′ marketplace='IT' link_id='86011ac6-0ecb-11e9-b23e-2d156c30c368′]
Monica Reyes: Biografia dell'agente speciale degli X-Files
Monica Reyes viene data in adozione e affidata ad una famiglia messicana e impara a parlare perfettamente la lingua spagnola. Non si conoscono le cause della sua adozione, ma una volta cresciuta, Monica non ha mai manifestato il reale desiderio di conoscere i genitori biologici.
Sin da piccola manifesta il suo interesse per la scienza della numerologia, si laurea in folklore e mitologia all'Università Brown di Providence, in Rhode Island (USA) e consegue un Master nello studio delle religioni.
Una volta termina la carriera universitaria, Monica Reyes entra nell'FBI nel 1990 e diventa agente speciale nella divisione di New York. Viene assegnata alla task force per il ritrovamento del figlio dell'agente John Doggett e, durante il ritrovamento del corpo senza vita del piccolo Luke, Monica ha una visione del corpo del bambino che si trasforma in cenere.
Il ritrovamento del corpo del figlio di Doggett sconvolge molto l'agente Reyes. Successivamente, viene assegnata alla sede di New Orleans dove si specializza sui delitti rituali e sulle attività sataniche.
Chi è la "vera" Monica Reyes?
Il personaggio di Monica Reyes è interpretato dall'attrice americana Anne Elizabeth Gish nata il 13 marzo 1971 a Albuquerque, una città degli Stati Uniti d'America e capoluogo della contea di Bernalillo nello Stato del Nuovo Messico.
Figlia di Robert e Judy Gish, Anne Elizabeth Gish ha un fratello Tim e una sorella Robin, sua nonna si chiamava Lillian. È sposata con lo stuntman Wade Allen, conosciuto sul set di X-Files, e hanno due figli: Cash Alexander (nato nel 2007) e Enzo Edward (nato nel 2008).
Debutta nel 1986 nel film Un fiore nel deserto, recita con Julia Roberts in Mystic Pizza, Una cena quasi perfetta, Gli intrighi del potere, Beautiful Girls, Steel e Fuori di cresta. Recita al fianco di Ashley Judd in Colpevole d'innocenza. Nel 2001 entra nel cast di X-Files nel ruolo dell'agente speciale Monica Reyes.
Dopo X-Files, l'attrice americana ha preso parte ad alcuni episodi di West Wing – Tutti gli uomini del Presidente interpretando Elizabeth Bartlet Westin, alla miniserie Bag of Bones, in cui interpreta Johanna Noonan e nella serie The Bridge. Nel 2014 entra a far parte del cast della settima ed ultima stagione di Sons of Anarchy nel ruolo del nuovo sceriffo.
Fonte immagine: youtube.com