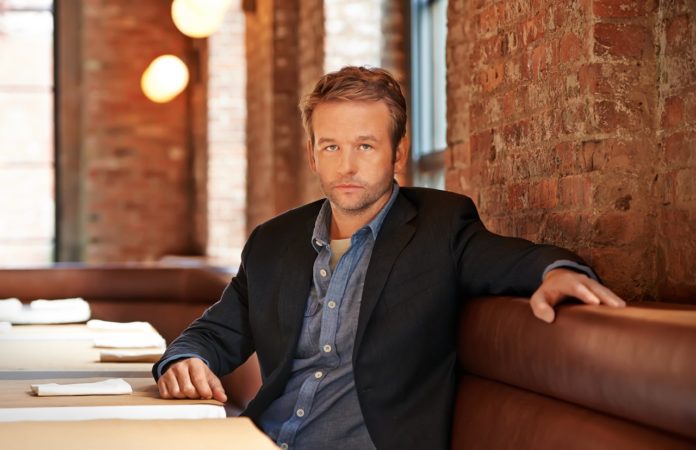 Classe 1970, originario di Houston, Dallas Roberts è il sexy attore della serie televisiva Insaziable, distribuita su Netflix a partire dal 10 agosto 2018. Scopriamo tutta la filmografia dell'alias Robert "Bob" Armstrong, Jr.
[amazon_link asins='B07FQY96RS' template='ProductCarousel' store='serietvdavedere-21′ marketplace='IT' link_id='3a5c9cad-ecdf-11e8-8069-6196dc5e9bff']
Dallas Roberts: Filmografia e serie tv
Sexy, determinato e poliedrico: ecco le caratteristiche che da sempre contraddistinguono la personalità di Dallas Roberts, attore, regista o sceneggiatore. Ecco tutti i personaggi nei film e tutti i suoi ruoli, grandi e piccoli nelle serie televisive.
Iniziamo pure con le serie televisive che da sempre appassionano l'audience: il grande successo carrieristico di Roberts è decretato proprio dai personaggi recitati nelle più famose sitcom.
Era l'anno 1994 quando il giovanissimo Roberts fece una comparsa nella serie televisiva drammatico-poliziesca New York Undercover; dal 1995 al 2009 lo abbiamo visto recitare in qualche episodio della serie televisiva Law & Order – I due volti della giustizia e, recentemente, nei panni del dottore Gregory William "Greg" Yates nelle serie televisive Law & Order – Unità vittime speciali e Chicago P.D., con tanto di partecipazione al crossover tra le due serie poliziesche.
Come dimenticare il personaggio di Miles Fiedler nella serie televisiva di genere drammatico Rubicon? Era l'anno 2010 quando Dallas faceva parte del cast scelto da Jason Horwitch, creatore della sitcom, che concepì la trama della serie basandosi su thriller degli anni '70 come: Perché un assassinio, Tutti gli uomini del presidente, I tre giorni del Condor.
Nel 2011 fa parte del cast del thriller The Grey, regia di Joe Carnahan, dove interpreta il ruolo di Pete Hendrick; l'anno seguente lo vediamo recitare in The Factory – Lotta contro il tempo (The Factory), nei panni del serial killer Carl e, nel 2013, nella pellicola cinematografica biografica Dallas Buyers Club, ispirato alla storia del texano Ron Woodroof che conduce una vita estremamente sregolata a base di alcool, droga e sesso.
Lo scorso anno, nel 2017, lo abbiamo visto interpretare nei panni di Carson Hesby nella terza stagione della serie televisiva antologica statunitense American Crime, trasmessa dal 2015 su ABC. Quest'anno Dallas recita nella prima stagione della serie televisiva comedy noire Insatiable, composta da 12 episodi e distribuita su Netflix.
Avvocato e consulente di moda caduto in disgrazia a seguito di false accuse di molestie gettate da una ex cliente, Robert "Bob" Armstrong, Jr., interpretato dal famoso attore texano, incrocia la vita di Patty Bladell, interpretata da Debby Ryan che, dopo un incidente perde ben 30 chili e si trasforma in un bellissimo "cigno".
Non più vittima di bullismo, Patty e l'avvocato si ritroveranno a fare i conti con gli "scheletri che si nascondono nei loro armadi". Anche se la serie Insatiable è stata criticata negativamente, come fa notare Mark A. Perlgard del Boston Herald: "Patty è importante, ma non è il piatto principale di Insatiable".
E, allora, indovinate un po' chi è la "vera ciliegina" sulla torta? Il vero protagonista della commedia "noire" è Bob Armstrong, falsamente accusato di molestie sessuali dalla Regina, la madre della reginetta di bellezza a cui prestava i suoi servigi.
Fonte immagine: imdb.com