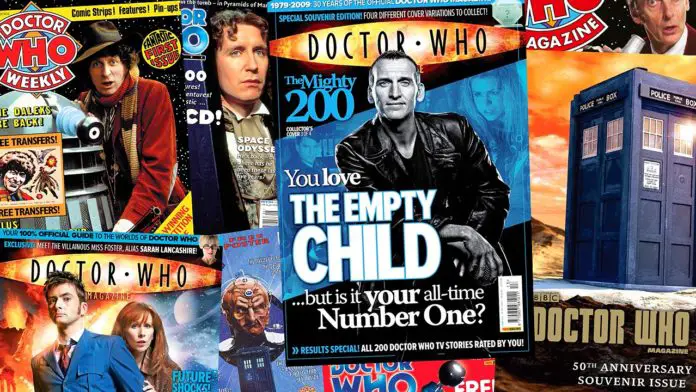 Serie televisiva fantascientifica prodotta dalla BBC a partire dal lontano 1963, Doctor Who – serie classica ha "collezionato" record su record in termini di successi, ascolti televisivi, volume di vendite di magazine, fumetti, libri, Dvd e Video Games.
E' la serie televisiva più longeva in assoluto. Composta da 26 stagioni nella serie classica, dal 2005 è stata diffusa una nuova serie dal titolo "Doctor Who". Nel corso delle varie stagioni, il misterioso Dottore proveniente dal pianeta Gallifrey, è stato interpretato da diversi attori. Vediamo in questa guida la Rivista Ufficiale, i fumetti ed i Video games da collezionare dedicata alla famosa Doctor Who serie tv.
Doctor Who Magazine e Fumetti dedicati alla serie tv
Era l'11 ottobre 1979 quando in Inghilterra usciva il famoso Doctor Who Magazine (DWM) che raccoglieva fumetti ed articoli dedicati al mondo del misterioso Dottore. Inizialmente il magazine era intitolato Doctor Who Weekly, veniva pubblicato dalla Marvel Comics ed il suo prezzo era di soli 12 penny.
[amazon_link asins='B0071VCOUK,B005HNHDSM,B004E4UL7A' template='ProductCarousel' store='serietvdavedere-21′ marketplace='IT' link_id='fd10d947-68d6-11e8-9846-f5267af11144′]
Da settimanale la rivista si trasformò in mensile (settembre 1980) e cambiò titolo in Doctor Who (A Marvel Monthly), Doctor Who Monthly, The Official Doctor Who Magazine, The Doctor Who Magazine fino all'attuale titolo Doctor Who Magazine (dal 1985 ad oggi).
Doctor Who (Serie Classica) terminò nel 1989: il magazine continuò ad essere pubblicato nel tempo grazie al sostegno dei fan che continuarono a seguire le favolose avventure, sotto forma di fumetti. Nel 2005, anno di uscita della nuova serie televisiva, la rivista cercò di "targetizzarsi" su una nuova generazione di fan.
Panini Comics ha ristampato i vecchi fumetti della famosa serie Doctor Who e, in occasione del cinquantesimo anniversario, è stata pubblicata da IDW Publishing Prisoner of Time, storia a fumetti composta da dodici episodi, uno per ogni Dottore. Odiernamente i fumetti sono pubblicati dalla Titan Books sul mercato statunitense.
[amazon_link asins='B012HTXJ7M,1613778244′ template='ProductCarousel' store='serietvdavedere-21′ marketplace='IT' link_id='72892d27-68d7-11e8-b46a-83620c781e54′]
Video Games della serie tv Doctor Who
Per gli appassionati dei Videogiochi, ecco la lista di giochi dedicata a Doctor Who, tutta da collezionare:
1983, Doctor Who: The First Adventure
1985, Doctor Who and the Warlord
1985, Doctor Who and the Mines of Terror
1992, Dalek Attack
1997, Doctor Who: Destiny of the Doctors
2008, Top Trumps: Doctor Who
2010, Doctor Who: Return to Earth
2010, Doctor Who: Evacuation Earth
2010, Doctor Who: The Mazes of Time
2011, Doctor Who: Worlds in Time
2012, Doctor Who: The Eternity Clock
2015, LEGO Dimensions
[amazon_link asins='B0040JGNKI,B0040JGNJE,B001EYU64Q' template='ProductCarousel' store='serietvdavedere-21′ marketplace='IT' link_id='54967088-68d8-11e8-849e-95757625dd70′]
Fonte immagine: youtube.com