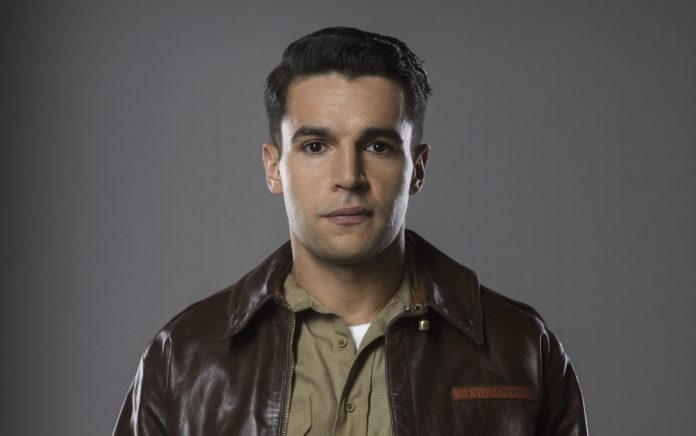 Tratta dal romanzo Comma 22 del 1961 scritto da Joseph Heller, la serie tv storica Catch-22 è una commedia satirica che narra la storia di un giovane aviatore dell'US Air Force durante la Seconda Guerra mondiale.
Il giovane bombardiere John "Yo Yo" Youssarian è il protagonista del romanzo di Joseph Heller Comma 22 (1961), nonché il protagonista di Catch-22.
È un capitano antieroico ventottenne dell'aeronautica militare statunitense durante la Seconda guerra mondiale, che riceve la Medaglia d'oro al valore militare per essere tornato due volte su Ferrara sotto il fuoco nemico distruggendo un ponte.
È ossessionato dall'idea che migliaia di persone sconosciute tentino di ucciderlo, sia direttamente (attaccando il suo aeroplano) che indirettamente (obbligandolo a eseguire missioni).
Yossarian è un'icona del movimento pacifista americano degli anni sessanta, il quale, manifestando contro la Guerra del Vietnam, fa spesso uso dello slogan "Yossarian lives" (Yossarian vive).
Catch-22: John "YoYo" Yossarian
John "YoYo" Yossarian è un aviatore specializzato allo sgancio delle bombe della US Air Force impegnato sul fronte italiano nella Seconda Guerra Mondiale.
Il suo vero antagonista è lo stesso esercito di cui fa parte.
Yossarian tenta in vari modi di evitare i suoi incarichi militari e incappa nel famigerato Comma 22 quando finalmente decide di dichiararsi pazzo per essere esentato dai suoi obblighi.
John "YoYo" Yossarian è un disilluso, un cinico, "attaccato alla vita", decisamente pragmatico ed un commilitone affidabile.
Catch-22: Christopher Abbott è John "YoYo" Yossarian
Christopher Jacob Abbott è un attore statunitense nato a Greenwich il 1º febbraio 1986. È conosciuto per aver recitato nella serie televisiva Girls e per aver recitato nelle pellicole cinematografiche La fuga di Martha, 1981: Indagine a New York e James White.
Cresciuto a Stamford Christopher Jacob Abbott ha lavorato nell'enoteca di un suo amico e in una videoteca.
Ha frequentato il Norwalk Community College e l'HB Studio e, nel 2006, si è trasferito a New York.
La sua carriera ha inizio nel 2008, anno in cui ha preso parte a due produzioni teatrali off-Broadway: Good Boys and True e Mouth to Mouth.
Dopo tre anni ha debuttato in televisione in un episodio delle serie Nurse Jackie – Terapia d'urto e, l'anno successivo, è apparso in Law & Order: Criminal Intent.
Nel 2011 ha partecipato alla pellicola del film drammatico La fuga di Martha e nel revival di The House of Blue Leaves.
Nel 2012 ha ottenuto il ruolo di Charlie Dattolo nella serie televisiva Girls e, dopo due anni, ha recitato nel film The Sleepwalker.
Nel 2015 ha interpretato il protagonista del film drammatico James White, l'anno successivo, è comparso in Whiskey Tango Foxtrot,
Nel 2017 è apparso nel film It Comes at Night, e nella serie televisiva thriller The Sinner.
Fonte immagine: tg24.sky.it