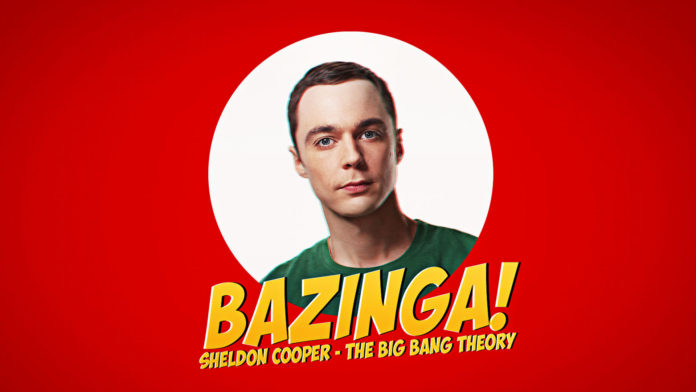 Bazinga! Quale modo migliore per presentare 5 gadget di The Big Bang Theory in vendita su Amazon? Ecco la nostra selezione!
Infatti, gli amanti della serie di grandissimo successo (che sta purtroppo per giungere al termine) possono trovare su Amazon una maglia rossa con al centro una stampa stilizzata che riporta il termine "Bazinga!".
I gadget sull'arcinota sitcom disponibili sull'e-commerce statunitense non si limitano certo a questo. Non c'è bisogno di dire che molti di questi sono dedicati o incentrati sulla figura dell'eclettico, bizzarro, divertente e super intelligente protagonista: il mitico Sheldon "Shelly" Cooper!
Pur non essendoci gadget con riferimento alla sua nascita in un supermercato, su Amazon c'è una tazza che riporta "Team Sheldon" e il simbolo dell'atomo, per esprimere l'inequivocabile preferenza per il personaggio (soprattutto se hai amici folli che preferiscono qualche altro personaggio a lui).
[amazon_link asins='B00DAK2RF8′ template='ProductCarousel' store='serietvdavedere-21′ marketplace='IT' link_id='127ac543-e520-11e8-af0d-21162a7e92b6′]
Alzi la mano chi ha sempre sognato un crossover tra la divertentissima sitcom e la saga preferita dei protagonisti, ovvero Star Wars (l'episodio della settima stagione mandato in onda in occasione dello Star Wars Day può essere considerato solo un contentino…). In effetti – come noi tutti ovviamente – Sheldon, Leonard e gli altri amano alla follia le avventure del colossal Star Wars. E per tentare di sollevare l'animo di chi ancora prega per un altro crossover, su Amazon può essere acquistato un quaderno in formato A5.
[amazon_link asins='B00CXOVKVO' template='ProductCarousel' store='serietvdavedere-21′ marketplace='IT' link_id='bbd279ce-e51f-11e8-9dde-072d6ebc01e2′]
Il perfetto simbolo della serie, che intercorre anche tra una scena e l'altra, è il famoso atomo. E chi ama The Big Bang Theory non può rinunciare ad acquistare una collana con ciondolo e ricostruzione dell'atomo!
[amazon_link asins='B00W49WNUK' template='ProductCarousel' store='serietvdavedere-21′ marketplace='IT' link_id='960c8635-e51f-11e8-83d8-498b445ae5ae']
Infine, come tutte le sitcom che si rispettino, anche questa ha la sua location simbolica, che è l'appartamento di Sheldon e Leonard (o meglio, il suo salotto). Vuoi ricostruire le storie della serie tv in miniatura (o semplicemente possedere un gadget favoloso)? Allora non puoi non acquistare il salotto perfettamente ricostruito con i Lego, che contiene anche 7 personaggi, un telescopio, una lavagna e molti altri oggetti presenti in scena!
[amazon_link asins='B012EO0QZI' template='ProductCarousel' store='serietvdavedere-21′ marketplace='IT' link_id='743001a1-e51f-11e8-b2b3-a99e5082b016′]
Fonte immagine: Mondofox.it